Lo hello takye, free fans let's gather here, is there a way to top up all games for free?? THERE IS A BOSS, no stamp, no hoax, no illegal! I'll tell you the methods that I usually use for free top up in all games!
How to top up games for free?
Some of the methods I use to top up all free games, which are summarized:
Using a survey application.
Mining crypto.
Following airdrops.
Doing certain events.
Inviting friends on certain platforms.
Selling P2E Crypto farming results.
For an explanation, I will discuss it below, pay close attention!
Using a survey application
Using a survey application that isn't complicated as you may have known is quite complicated, and usually there is a threshold/limit to be disbursed. Here I will provide a list of survey applications that are proven to pay me.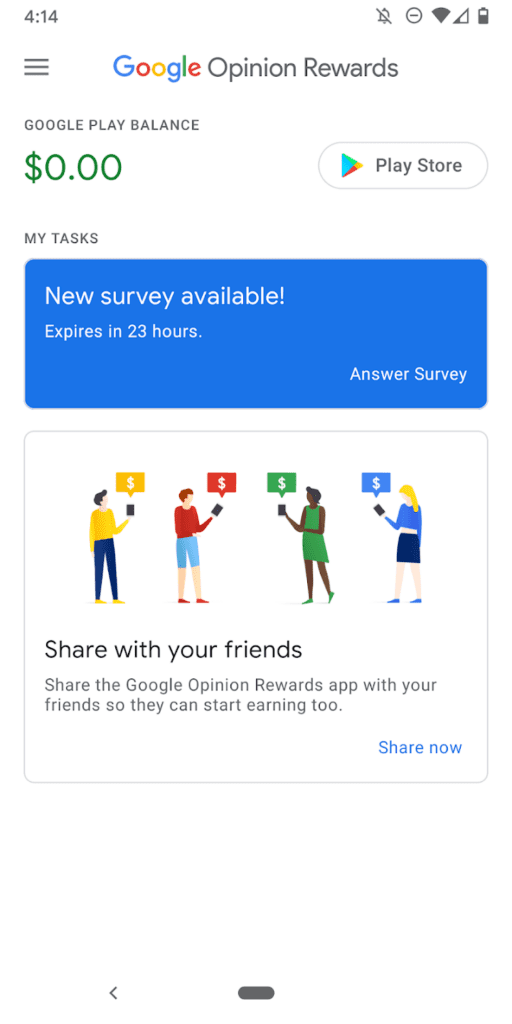 This one survey application belongs to Google, of course it pays and I have tried it myself. Google Opinion Rewards is great if you live in a crowded area and if you use Google's services a lot you will usually be given lots of offers. Google Opinion Rewards is also very easy to do, I suggest that if you rely on this application, turn on the location sharing feature on your Google account so that more survey offers are given, just watching YouTube can also get survey offers!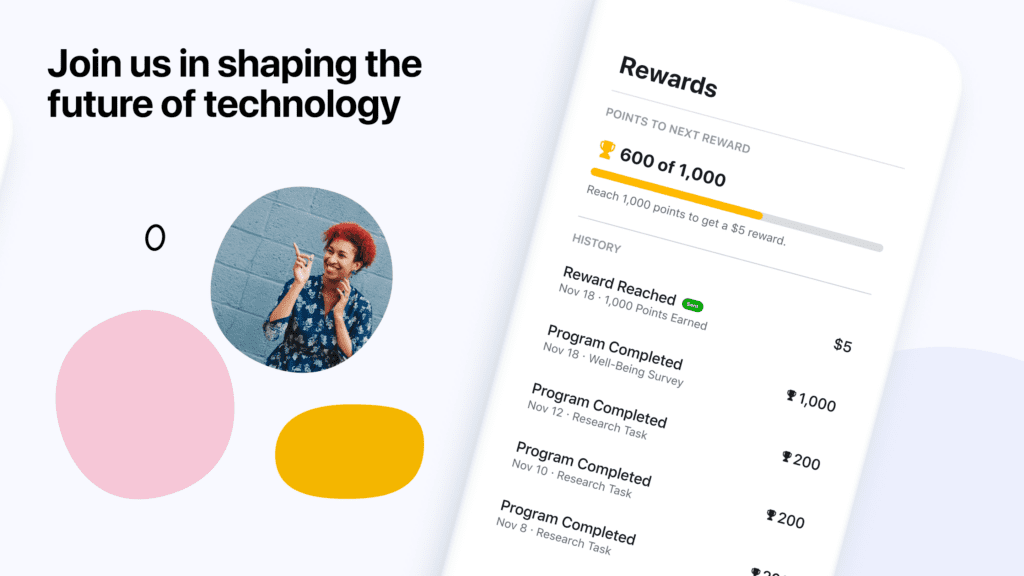 Just like Google Opinion, Viewpoints is owned by a large company, namely Meta (Facebook). It's very suitable and they pay quite well, you know, and it also depends on which area you are in, for example the area is busy and many use Facebook features, chances are the surveys offered will be more!
Mining Crypto
I recommend crypto mining for those of you who have qualified computer specifications, but if your specifications are not too high you can do that too, but yes, it will take a while. GPU profitability ranking – WhatToMine on the WhatToMine web you can see what coins are currently profitable for your specifications. There are various types of miner applications, and the ones I use most often are:
Please adjust to what algorithm you will use, I highly recommend all of the mining applications above if you are looking for a way to top up for free in all games. For crypto mining, I have tried it myself and I have gotten tens of millions to top up the game I want :D. If you are new to the world of mining I recommend using Nicehash, it is very newbie friendly and easy to use! Only use it when you are not using your computer or laptop, slowly but surely the results will be collected later!
Following airdrops
There are lots of crypto airdrops hanging around every day, my advice is to follow the telegram group that shares the airdrop, or maybe the Facebook group if you find one. The results obtained from the Airdrop are very diverse, from tens of thousands of rupiah to tens of millions (Jackpot). Most Airdrops are easy to do so just do as many as you can! Later, you know, you already have a lot of balance, you can top it up hehehe.
The picture above is an example of the Airdrop group that I follow, it's always updated every day and can be very good to follow.
Follow events
Events are also scattered on the internet, especially the exchanger opening event. Only with KYC 1 you can get money to top up the game you want. An example of the event I mean is like TokoCrypto, if you click on the link beside you can see an example of an ongoing event, just by registering, you can get money to top up, dude!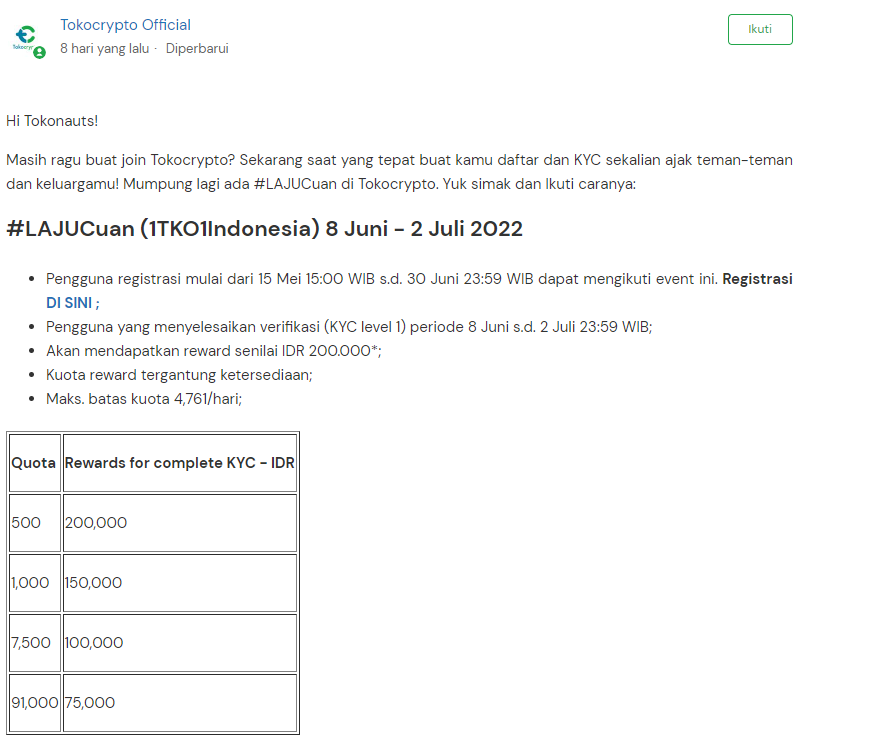 This is just one event, guys, how come you can search for events like this on social media with the keyword "Crypto events", all you have to do is choose guys 😀
Inviting friends on certain platforms
Many platforms give royalties to their users who have successfully invited friends to join their platform, even in all the exchanges that I met, all of them have an invite friends feature. The rewards offered for inviting friends vary, some are small and some are big. Usually the size of the reward depends on whether there is an event or not at that time, so be diligent, you freebies hehehe. For example, on the Indonesian exchanger platform, you can use the Tokocrypto Invite Link (get a 5% bonus when you register), that's an example of a link inviting friends, whether you want to use it or not, it's up to you :D. Use this method if you have lots of friends! Actually, I don't really recommend this method, but if you have a lot of friends and if you happen to be good at sales, it's perfect!
Selling P2E game farming results
Selling the results of the game play to earn is very promising to be used to top up the game you want, there are many games that you can play to get coffers of money to top up. A very supportive platform for free players is Wemix, most of the games published by WEMIX are always free! So no need to spend any money bro! You can also play games that are really happening, like Ni no Kuni: CrossWorlds, which is still as old as corn! very suitable for use, for a complete guide you can read:
Closing
Of all the lists that I present, most of them are related to crypto, indeed the large crypto fields are very suitable for people who like freebies like me. Everyone is free to have their opinion about crypto, some are happy with crypto, some hate crypto to death, some are just normal with crypto. But if it can be profitable, why not use it? As long as it is possible and easy to do, why not. That's the top way for all games to be free, well it's not really free, it's just that it requires a little effort from you guys :D. I hope this article helps those of you who are in need, if you have questions, please write them in the comments column, I will answer them as soon as possible! Thanks for reading~
Writer and proudly owner of Diringkas.com!
I like to Staying up-to-date with the latest tech advancements, playing video games, discovering new games, and writing about them.