Mir4 Layak dimainkan apa tidak sih?
Ada 2 prespektif yang bisa kita lihat yaitu:
Prespektif Gamer
Untuk have fun atau menikmati gameplay, Mir4 termasuk game yang layak dimainkan.
Fitur yang dihadirkan di dalam game tersebut kami rasa sudah cukup matang untuk sebuah game.
Untuk fitur garis besarnya bisa dilihat Klik disini, setelah itu klik bagian Feature.
Prespektif Pemburu Cuan
Apabila kamu ingin mencari cuan/untung di game ini maka jawabannya cukup relatif, mari kita bedah sedikit.
Berikut chart USD/DRACO pada tanggal 13 Mei 2022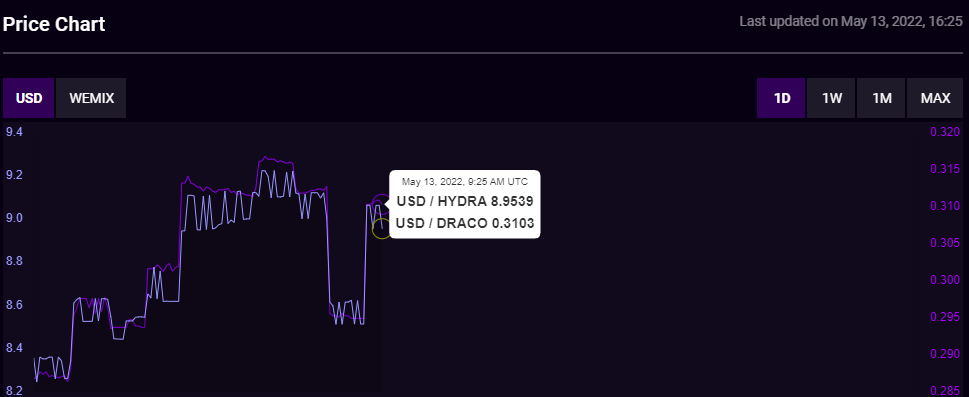 Ada 2 grafik yang ditampilkan yaitu, USD/HYDRA dan USD/DRACO. Apa bedanya?
Jadi singkatnya USD/HYDRA adalah koin produk dari Mir4 yang digunakan untuk keperluan membeli barang di Shop ingame dan NFT di marketplace resmi milik Mir4.
DRACO adalah koin utama yang akan di mining oleh player nantinya, DRACO sendiri dihasilkan dari smelting darksteel dan untuk pemain yang sudah lama dapat memakainya untuk membuat HYDRA.
Oke lanjut ke pembahasan worth/layak untuk cuan apa tidak, 1 akun Mir4 dapat menghasilkan ±500k-1jt darksteel per-hari menggunakan mode auto mining. Mir4 global memperbolehkan player untuk login menggunakan 3 client game yang berbeda yaitu, 2 client dari mir4 launcher dan 1 dari mir4 Steam.
Jadi untuk sehari ekspetasi terendah yang didapat adalah 1,5jt darksteel, sedangkan untuk smelting Draco jumlahnya bervariasi karena Mir4 memiliki algoritma bernama Trilogy Algorithm, nah penjelasan singkat dari algoritma itu sendiri yaitu semakin murah harga Draco maka semakin banyak jumlah darksteel yang diperlukan untuk smelting berlaku sebaliknya.
Untuk penghitungan kasarnya yaitu:
Katakanlah 1x smelting memerlukan 350rb darksteel, maka 1,5jt/350k = 4 Draco/hari, maka 0.3103 x 4 = 1.2.
Yap $1,2 atau sekitar 17rb rupiah, apakah ini worth untuk kalian?
Pertanyaan diatas bisa kalian simpulkan sendiri, angka tersebut hanya gambaran kasar, tidak final, bisa naik dan bisa turun.
Semoga tulisan ini dapat membantu bagi para pembaca sekalian, terima kasih.
Writer and proudly owner of Diringkas.com!
I like to Staying up-to-date with the latest tech advancements, playing video games, discovering new games, and writing about them.