How to quickly farm Territe? is there actually one? YES THERE IS.
There are many theories circulating about how to farm Territe the fastest, but many of them are not proven true.
Here I will give a few tips and tricks on how to make more than 100 Territes in a day!
Upgrade Weapons
A very important step in how to farm Territe in order to get a lot, That is upgrading weapons.
Use the best weapons and of course use the best yours, if your best weapon is a water type, then look for fire-elemental enemies in the Chaos Field.
Why did I put this in the first point? because this is the most important thing bro, upgrade your best weapons before going to the next step.
Maybe you are stuck and don't know how to upgrade your CP, you can also read the article at Raise CP FAST Ni no Kuni Crossworld.
Do Trial & Error To Choose Monster
Try a grind/farm where the monster you want to fight is, leave AFK for 1 hour and see the results.
If at least in 1 hour you can get at least 8 Territe, then it is suitable to try there and may proceed to the next step, if not try looking for a weaker monster.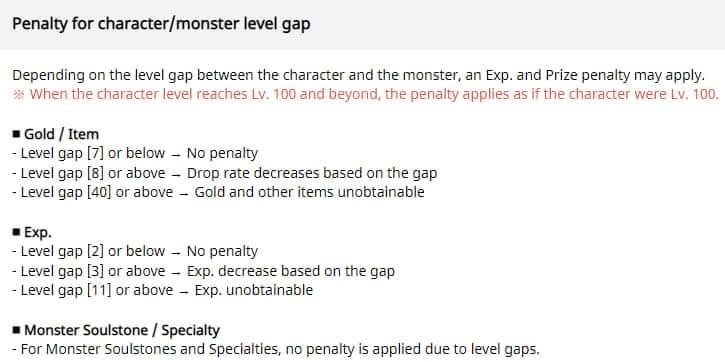 The picture above is the level limit for EXP/Gold/Item and Soulstone drops.
Explanation:
For Gold and Items if
If the enemy's level is different from us 7 levels or more, then there is no penalty. Example: we are level 60, so that there is no penalty, farm enemies level 53-67 in order to get a higher drop
If the enemy's level is different from ours above 8 or more, the drop rate will be reduced based on how big the difference is, the explanation is the same as the first.
If the level difference is more than 40 or more, then gold and items cannot be obtained, or no drop alias does not get any drop.
We focus on Gold/Item only, because Exp and Monster Soulstone are not needed to find Territe.
Create a Party
Make a party with settings like this, or adjust to the required level and CP required to be able to join your party, the most important point is always to choose Auto Approve.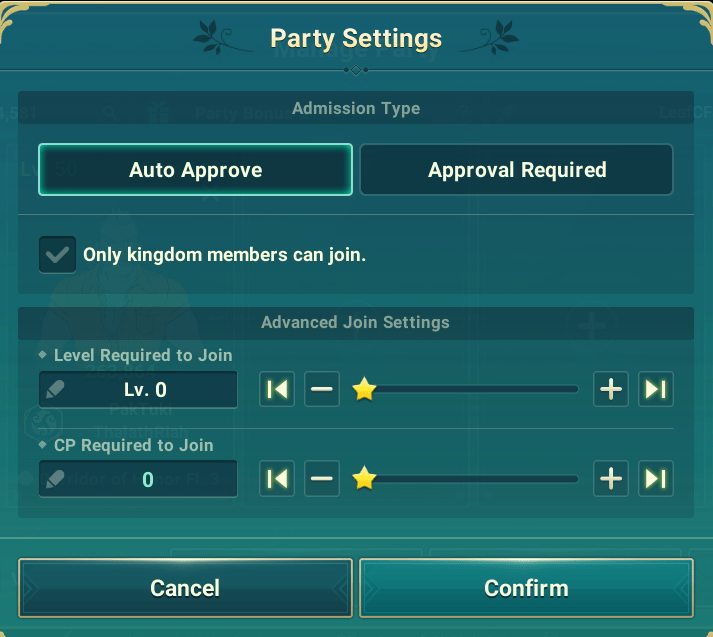 After that click confirm and change the name of your party with the name of the type of monster being hunted and where you are farming, after that enter then close the party window and just wait for your party to be full.
CF stands for Chaos Field, and 3 is the floor because in Chaos Field there are floors 1, 2 and 3.
Leaf/Earth is the type of enemy element in the form of a leaf or nature for other terms you can use:
Fire
Earth/Leaf
Light
Dark
Water
The function of the party here is to increase the drop prize, the more party members the bigger the drop chance and make sure to check whether your party members are near you or not, because if they are not near you then the party bonus will not be applied.
Use Mono Elemental Weapon
To be able to kill monsters faster, use mono element weapons or weapons of the same type. For example, if you want to farm monster nature or leaves or earth, use 3 fire element weapons.
The thing that needs to be considered in the weapon to be used is the attribute of the weapon, and what is needed is the ATK element, as in the example picture above, the focus is on Fire ATK.
Use a minimum of 3-star weapons to get the mono element effect to be more effective.
This method is usually done during mid-game or end game, right! But if you want to start from scratch, you can as long as you have enough resources :D.
Mindset and Conclusion
To get maximum territe farm results, the mindset needed is quantity over quality, the more monsters that are defeated quickly, the greater the chance of getting Territe drops.
Widen your auto-battle Distance to cover 2 monster spots in the Chaos Field, because 1 isn't enough, the minimum is 2.
Oh yeah, change the channel if the place you want to farm is full of people, or if you have a PK barbarian soul hahaha.
That's a quick way to farm Territe Ni no Kuni Crossworld, if you have any questions, please comment below!
Have a good day!